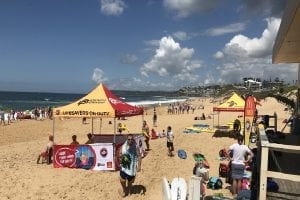 For over 100 years the Cooks Hill has been proudly patrolling Bar Beach every weekend & public holiday from the first Saturday of Term 3 holiday's (mid September) until Anzac Day every year.
Want to join us? Become a Surf Lifesaver.
A surf lifesaver is a trained volunteer who patrols our beaches on weekends and public holidays.
Surf lifesavers take on a variety of roles including aquatic rescues, providing first aid and emergency care and educating the public about the dangers of the surf.
Becoming a surf lifesaver is satisfying, fun and rewarding. You can enjoy a healthy lifestyle, be trained in aquatic rescue, make new mates, compete in surf sports events and give something back to your local community. At some point you might also help save someone's life.
To become a surf lifesaver, you will need to obtain your Surf Lifesaving Bronze Medallion qualification, from there you will become an Active Patrolling member of Cooks Hill.
To hold a Bronze Medallion, you must be at least 15 and demonstrate proficiency in surf awareness, survival, patrol and rescue procedures, emergency care plus a knowledge of anatomy and physiology.
Once you've successfully gained a Bronze Medallion and have joined our club, you can wear the red and yellow uniform and proudly call yourself a surf lifesaver. Your club will assign you to a patrol team where you'll build skills and experience with the help of other qualified lifesavers.
View our membership information here.
Patrol Rosters
The Senior Patrol Roster for 2020-21 season will appear here in the new season.
The Rookie Team Roster for 2020-21 season will appear here in the new season.
All Patrol Substitutions are to be entered into the SLSA Members Portal. Please view the user guide for more details on Patrol Substitutions.
Patrol Requirements and Obligations
Please read the attached Patrol Rules.
The attached Patrol Operations Manual has been prepared to assist and guide Patrol teams.